Using search feeds
From version 3.13 Feedreader supports search feeds based on Opensearch definition standard.

To add new feed select New > Search feed from File menu.


In this form it's possible to input search keyword and select search services that are used for providing persistent search results. You can select one or more services at the same time. After clicking "Ok" new search feed is created and all subscribed search services are updated. Search results are displayed in the same way as normal feed articles.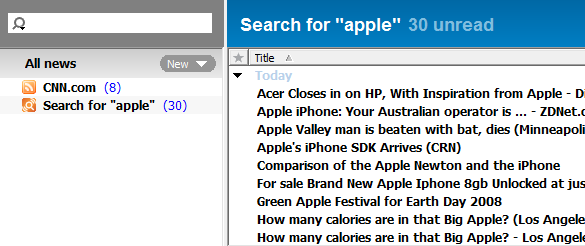 If you select "Group by source" from view menu then it's possible to browse search results by search service.


To change search keyword or change the search services that are used to provide the search select "Edit search feed" from selected search feed popupmenu. Search feed edit form will be displayed.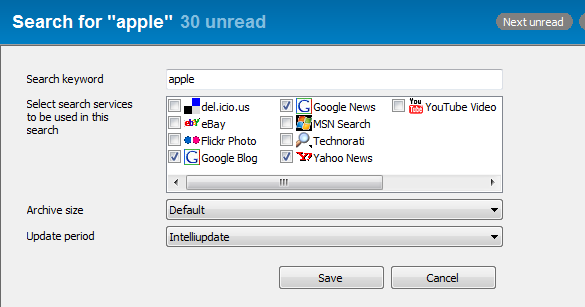 Adding search feed services
Search feed service definitions are based on Opensearch standard. This makes it possible for you to add your own search services to Feedreader. Search feed definition file must comply to following rules:
Search feed service must be defined in Opensearch standard
Search feed service definition must include Url tag with type "application/rss+xml" or "application/atom+xml". Currently Feedreader does not allow HTML search results
Search feed service definition must be copied to "opensearch" folder under Feedreader program files folder.