We have been quite busy lately because of the developments that are going on on Feedreader Connect Server front. We are happy because there are a lot of orders, product evaluations, consulting customers and so on. Feedreader Connect Server has been in production for about three years but only now companies are getting really interested in gathering data and analyzing it.

What comes to our clients and their use cases then basically there are two different uses of Feedreader Connect Server. Some customers are using Feedreader Connect to update the feeds and then present data on public portal with their own user interface. Another example is Techtrack - leading technology blogs in one site and blogs.station - all Estonian blogs in one site. Other group of customers uses Feedreader Connect Server as media monitoring tool for use inside the corporation. We also have some professional media monitoring companies as our clients who offer services to end users.

We are always happily giving out Feedreader Connect Server evaluations. If you are interested then contact us and we will help to get it running. As we have more than 10 years of competence then it comes to both technical issues and media monitoring and data analyzing then we can be quite helpful then it comes to deciding how to implement some service, how is the best way to gather data, analyze it. We can also offer development services then it comes to building your product/service on top of Feedreader Connect Server.

We also remind you that we still run the "depression special ;)" campaign - you can get Feedreader Connect Server with unlimited feeds for 990 Euros.

Now a little brief about developments.

Based on customer request it's now possible to change working database in Feedreader Administrator and in Feedreader Connect Server and in Feedreader Connect Indexer.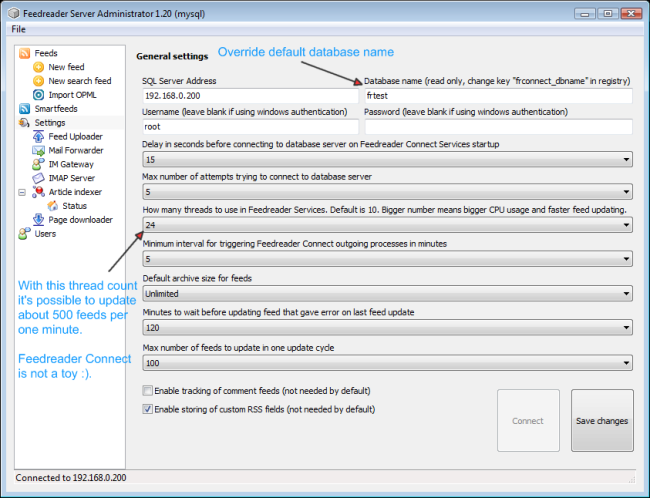 So from now you can create multiple databases - one for testing, another for production and so on. We also came to clever idea - create a simple script that stops services, changes database location and then starts services again. Doing this you can basically have multiple instances of Feedreader Connect Server running - each instance updating it's own feeds.

Another cool change that we did is the change of threads count in Feedreader Connect Server. Before the change maximum thread count was 16, now it's 24. What does thread count mean and how it changes the performance? Basically thread count is the number of thread that download feeds simultaneously. The bigger is the thread count the more feeds can Feedreader Connect Server update. And we must tell that Feedreader Connect Server is not a toy at all. Although it's shares the roots with normal Feedreader, it's quite different kind of beast. In our tests Feedreader Connect Server can easily update 500 feeds in one minute - this is of course true with decent hardware (decent sql server).