It's about time to introduce new server based application called Feedreader Anywhere (or simply FRAW).

Feedreader Anywhere is version of Feedreader that runs, well, anywhere :). And it does not matter if we are talking about different operation systems or different geographical continents. Whatever kind of computer or phone or appliance you are using or in whatever location you are currently happen to reside – all your feeds are only a click away. And even if you have not used Feedreader Anywhere for a while you still have all the newest articles waiting for you. This is because Feedreader Anywhere updates feeds even if user has not logged on.

So in one word – Feedreader Anywhere is a Feedreader that is available anywhere without the need for complicated installation and management process.

Functionality

When developing Feedreader Anywhere our priority was not to duplicate the functionality of standard Feedreader. There are a lot of different features in Feedreader that are really not used by everybody. So we want to keep this thing simple. After all – this is the logic that we are praised for.

At the same time standard Feedreader lacks anything that is related to groupware features. But these features are highly needed in corporate environments. The coolest groupware feature that will be included in Feedreader Anywhere is the functionality to share and subscribe the folder of feeds. Basically one user can create a structure of folders and feeds and share the folder. Other users can subscribe this folder and use it the way like it was their own folder. And if user who shared the folder subscribes to new feeds in this folder or unsubscribes from some feeds then all the changes are reflected on every user who has subscribe to this particular shared folder.

Multiuser environment also opens some interesting possibilities when it comes to finding the feeds that user could be interested in. For example user subscribes to "CNN Top Stories" newsfeed. Feedreader Anywhere analyzes other users feeds and can then offer a list of feeds that are subscribed by users who have also subscribed to "CNN Top Stories".

Using Feedreader RSS allows us to aggregate Tech Blogs from Anywhere, Our Blogs now cover the latest tech new from everywhere.

Some screenshots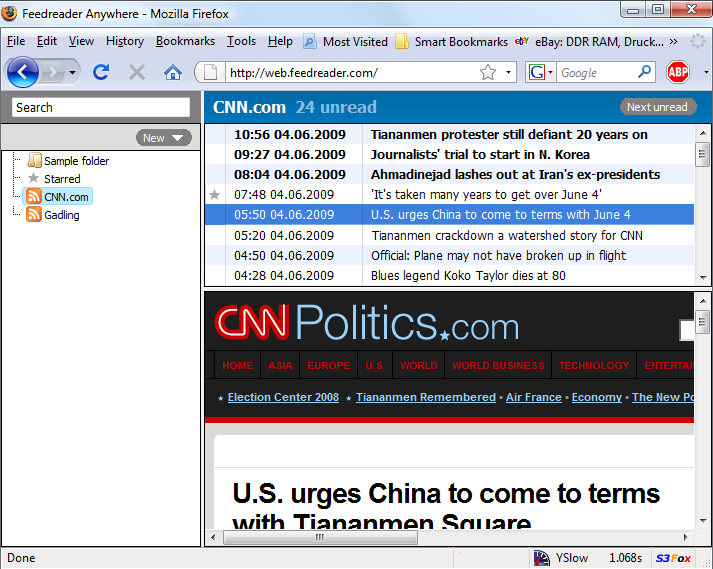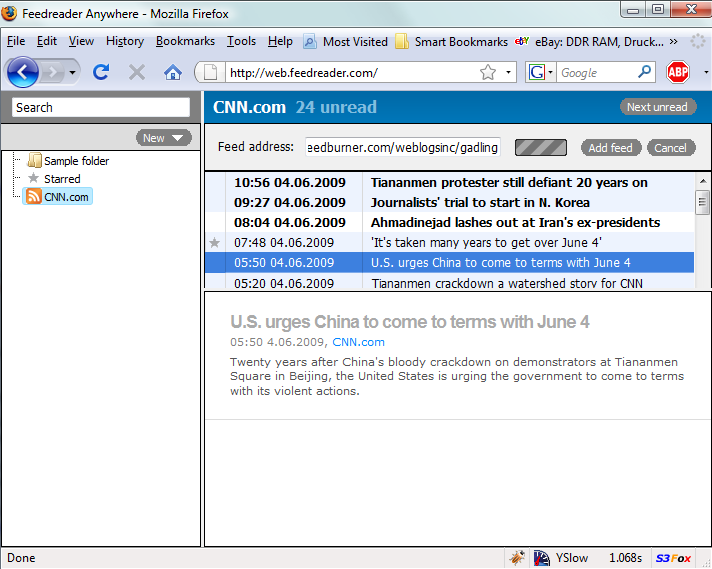 How we are placing the product

We see Feedreader Anywhere as a product that can be used by companies for providing their employees the access to RSS feeds without any complicated installation processes in every computer in corporation. Feedreader Anywhere is also great way to go if corporation has offices in multiple locations and intranet has quite loose architecture.

Feedreader Anywhere can be used for offering employees the access to public RSS feeds (newspapers, portals and so on) but can also be used for sharing corporate information inside the company. Be it then CRM messages, company news, or daily menu :).

We also see Feedreader Anywhere as starting point for creating custom workflows that are different in case of every company. For example news agencies can add editorial environment to Feedreader Anywhere. Media monitoring companies could use Feedreader Anywhere as client portal for sharing information. PR entities inside larger corporations can use Feedreader Anywhere for storing articles. Uses are limitless.

We will not currently offer Feedreader Anywhere as public service. The idea is interesting but we are lacking the resources to do it with quality.

Technical details

Technically speaking - Feedreader Anywhere is a web application that lies on top of Feedreader Connect Server. Feedreader Anywhere is developed using Borland Delphi that is non-interpreted language. This means that application is really fast then compared to usual applications that are developed using PHP, Java, DotNet or Perl.

Feedreader Anywhere runs as Apache module. It's also possible to offer ISAPI module then there is request for this.

As Feedreader Anywhere user interface is developed using HTML and Javascript then anybody can create 100% custom layout for Feedreader Anywhere. Develop special iPhone version or version for WAP browsers – everything is possible. It's only matter of changing HTML and Javascript.

Feedreader Anywhere and Feedreader Connect Server are both using MySQL Server as database backend. On request Microsoft SQL port is also possible.

Preview available

You are welcome to get a sneak preview of Feedreader Anywhere. Please navigate to http://web.feedreader.com and after simple registration (no emails and other non-important stuff is asked) you are ready to go. If you cannot get yourself registered then you can always play with username "test" and password "test".

If checking out sneak preview of Feedreader Anywhere then please notice that this is not 100% running and completed application. This is really not even an alpha version but something that's shown fresh from our labs. So in other words – not everything is not working. And if it does not work in your case then please give us time to make things better.

Things that do not exist yet or are under development:

Unread counts
Seeing more than 200 articles at one time
Smart feeds
Different layout modes
Folder sharing and subscribing.
It's not possible to trigger feed update manually
No ways to import feed list (OPML).
Search is only using article titles.
Auto-discovery of feeds does not work
etc

Supported web browsers:
Firefox
Internet Explorer (7,8)
Opera
Safari
Google Chrome.

When it comes to web browsers then safest bet is to use Firefox or Google Chrome for testing.