We are happy to release next beta release of Feedreader 3.14. It's following to the Beta1 what was released here.

Changes and additions that are changed since beta1:

Offline support added

We have added basic offline support. It's good if you are going somewhere where you have a lot of time and no internet at all ;). A summer cottage, bus or plane is an example although at least in Estonia we have wifi even in intercity buses ;). You can also use this feature if you have slow internet connection because you can let Feedreader to preload all articles.

This feature turned out pretty cool. We did not want to over-engineer it and tried to keep it simple. Basically we save remote web pages (those webpages that are linked from articles title) to database. By default we do not save any images to make things run fast and smoothly. If you want to try out saving articles with images then add downloadwebpagestocache=1 to feedreader.ini. But I warn you that it may not be that smooth experience.

There are two ways of saving articles to database. One way is to select File > Offline > Work offline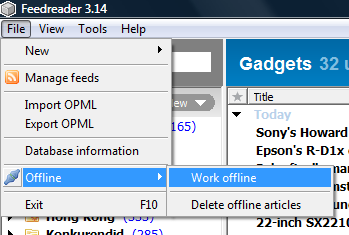 After clicking on this link you will see new window that lets you automatically download articles that you need.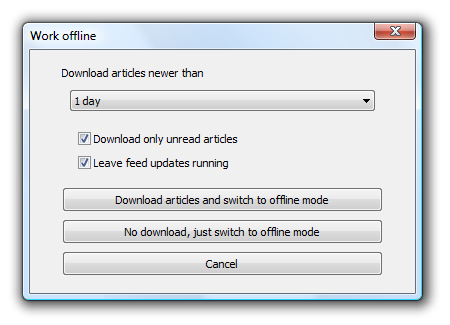 Just select the period from where you want to download articles, specify if you only want to download unread articles. "Leave feed updates running" means that you are activating offline mode for reading articles but at the same time everything else except the article retrieving from cache works normally. This is good maybe in case of slow connections where you would always wait for article web pages to download completely. Now you can let Feedreader download all articles to cache and then read them quickly.
If "Work offline" is activated then only difference between "online mode" is that if article is in our local cache and you click on article title in minibrowser then instead of going to remote web page Feedreader retrieves cached copy of this web page from database and shows like normal web page.
If you do not want to download all articles and are interested only in articles in some feed then you can click on "No download, just switch to offline mode" and select articles that you want to download. After this select "Download selected articles for offline viewing" from article listing popupmenu.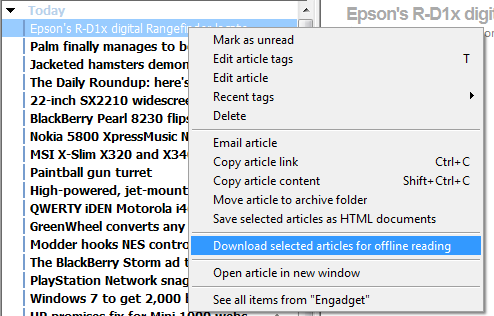 In previous screenshot you also see how the articles that are in cache are displayed. Basically a little blue marking in front of article title.
Other changes:

We have updated tree component that we are using inside Feedreader. It fixes some bugs but can also trigger

new. So if you see some really weird things happening to either feed tree or item listings then just let us know.

"Keep application in front when opening links in browser" is fixed