Feedreader 3.0 is able to download enclosures / podcasts what are attached to articles. There are two ways to download enclosures:


Automatic
To enable automatic download of enclosures, please open feed / smartfeed properties and make sure that checkbox "Download enclosures" is checked.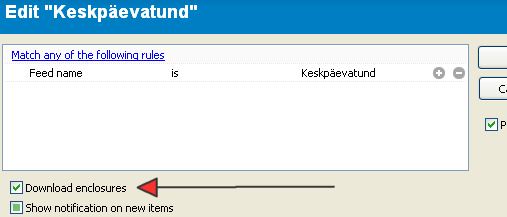 If you have checked this option then all enclosures will be automatically downloaded to enclosure directory if new items arrive in this feed/smartfeed.


Manual
Make sure that you have "Status" column visible. You can check it out from menu "View -> Visible columns". Status item must be checked.
If Status column is visible and there is enclosure attached to some news item, then you see attachment icon in Status column.







If this icon is gray then enclosure / podcast is available but is not downloaded yet. Double click on this icon to start downloading.
If this icon is black then enclosure / podcast is already downloaded. Double click on this icon to open downloaded file in media player.


Download directory
By default enclosures download directory is located under two possible locations:

c:\documents and settings\USERNAME\application data\Feedreader\downloads
c:\program files\Feedreader30\downloads
You can open this directory in File Explorer and manage downloads as regular documents (for example copy to memorystick or add to iTunes playlist).
If you want to change default directory then open Feedreader options from menu Tools > Options and navigate to "Advanced" tab. Change "Enclosures download directory" to fit your needs.