If a site does not offer an RSS feed, more often than not, they lose me as a reader and subscriber.

Devoted RSS user
Some website owners are wondering whether they should have an RSS feed these days or is it better to follow with a regular newsletter? We gave it a thought and this is what we have to say about it.
Despite the rumors that 'RSS is dead/dying' (the funny thing is that we have been constantly hearing this story for ten years or so), RSS feed still can be a content spreading and marketing tool of unparalleled functionality.
Unfortunately, many site/blog owners decide not to syndicate RSS feeds on their projects at all, or hide RSS buttons away, giving higher priority to email or social media subscriptions (as they believe they are more efficient in some respect), and thus they provide their followers with less choice/freedom. Such website owners lose the opportunity to deliver their content in a convenient and user-friendly way. It is quite logical that site owners would better promote usage of RSS among their users, instead of rejecting it, as they can obtain some delicious benefits in addition to other existing channels.
Content spreading triangle: RSS + Email + Social Media
As the amount of content in social media is overwhelming, so the competition between businesses is severe, and the user attention span is short. Although social media are used by almost everyone, they serve different purposes than RSS readers: they are great at connecting people, but miss the mark when it comes to mass delivering of your business content to the users (unless you're using paid options to promote yourself on Facebook or Twitter).
There is a similar issue with the email newsletters: often a user's inbox receives so much spam or other correspondence that the risk of your message to be deleted unread is pretty high. Moreover, real-life users are sick and tired of all those websites begging for their email addresses, so they may not appreciate another subscription that requires giving the personal info away.
That's why a good few users may find that getting site news via an RSS feed is a great alternative to hectic and cluttered social media feeds, or intrusive emails, as it allows them to check the updates in a more time-efficient and organized manner. With RSS reader a user can scan through the whole stack of a site's or blog's headlines whenever he founds convenient, select what he is interested in, and follow the direct link to the original post if he wants to learn more.
After all, RSS feed aggregators offer such features that most of social networks simply do not support: read/unread news status, private star/saves, and organizational folders.
Here are some more reasons why RSS feeds are convenient and useful both for website owners and visitors.
For site owners:
A route to a wider audience: by not using RSS feed on your website, you narrow the marketing toolbox, and lose a free yet powerful instrument to build a stronger connection with the existing audience, or get a portion of newcomers - there are many RSS directories and catalogs out there, including Feedreader Observe, giving you more space for promotion.
Unlike email newsletters RSS feeds can never be marked as spam (about 21% of emails worldwide fail because of spam reports). People tend to skip emails that are not their first priority as they are fed up with spam and rubbish, so your regular newsletter may automatically go to spam folder and never be read. Also, every bulk email provokes a number of spam reports sent to your provider, which a bit spoils your reputation and carries a variety of other risks.
Less privacy concerns: Your visitors feel control over their information as they don't have to share it with other parties they cannot fully trust.
RSS serves news, not ads or spam: it delivers your high quality content directly to users, without tricky medium or uncertainty. You can provide them with enticing ad-free post previews, and then invite visitors to continue reading on the website. All of this increases brand loyalty and is obviously good for your traffic.
RSS makes following your website convenient for as many people as possible, while syndicating an RSS feed will cost you nothing - it is free and easy to set up (you may learn how to create RSS feed here).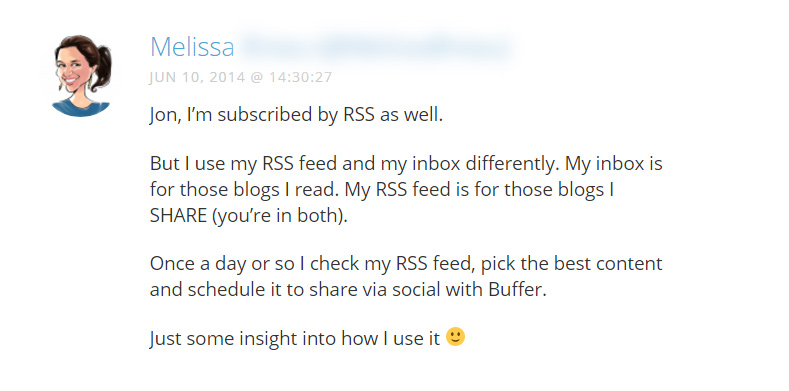 For visitors:
You don't have to share the email address and other contact info with every website you're barely interested in. As a result, you don't have to deal with email inbox clogged by spam or unsolicited emails, and there is a lesser chance that your personal details will be stolen by hackers or sold by a corrupt site owner.
You can unsubscribe from any RSS feed any time you want in one click while it's not that easy with emails (we've all been there).
It's easier to control the information you want to get. There's no need to look through dozens of inefficient emails after long weekends - you can easily switch between Feedreader Online categories for the content you need. You may check our previous article for more info about managing the incoming news flow and the risk of info overload. Comparing to social networks cluttered with disturbing ads, socially approved content or 'suggested' posts, RSS readers can keep their feeds clean and arranged chronologically, and thus get just the info they've intentionally chosen to get.
We recommend that you never limit your 'content spreading triangle', but you'd better jump at the opportunity to promote your project, articles, products, and services to a wider audience: social media are important in terms of user engagement, newsletters are convenient for some people, but RSS is still a great option for users that may never want to follow you on Twitter or subscribe to your newsletters.