We have played around with the idea of using RSS as data source for screensavers and information screens for a long time. And today we present you the next demo application based on Feedreader platform. It's called Feedreader Screensaver.

You can use Feedreader Screensaver either as just a Windows screensaver or install LCD monitor / LCD TV in some public location and use it as public information screen for displaying news / twitter tweets / company blog / company alert messages using Feedreader Screensaver software.

If you are interested in producing your own information screen with different graphic layouts and settings (currently the application shows only article titles) then do not hesitate to contact us.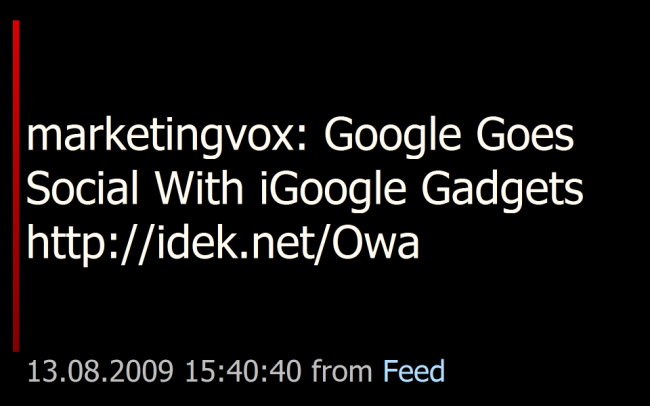 If you would like to run the proof of concept application then it's available for download here. Unzip the package and after importing registry run frscreensaver.exe. IF you want to close application then just press ESC. Of course it's just a proof of concept – so it's not meant as a product for working environment. Please do not forget to import registry file to set all the feeds.

By default we are subscribing to specific twitter feed. You can easily change this in registry file ("import into registry.reg"). If you would like to change feed then please delete "rssengine.fdb" for feed changes to take effect.

If you want to use this application as windows screensaver then please rename frscreensaver.exe to frscreensaver.scr and copy all files from zip package to windows folder. After this you can open "Display properties" > "Screensaver" and set this screensaver as your default screensaver.

If you want to "reset" frscreensaver then just delete rssengine.fdb.