We have been asked multiple times about possible uses for Feedreader Connect Server. From our documentation it's looks like the product is quite powerful. But what exactly we can do with it? This made us to create slide show where working application that uses Feedreader Connect Server is demoed. Following is an working example of how Feedreader Connect Server is used for information monitoring. It gives interested parties some ideas for what Feedreader Connect could be used.
On following screenshots you will see administration environment of media monitoring application. We use it both for administering public portal and also for offering services for end users.  We also sell this application on top of Feedreader Server. Clients of this application include various media related organizations but interestingly also police organization. But now about functionalities.
Following image shows topic groups that we have defined. Topic group consists of one or multiple topics. For example topic group "Microsoft" could include "Microsoft, Windows XP, MSFT". All topic groups usable in public portal (or private portal) and also available to be used as RSS feeds to be imported to other information systems or RSS readers. The list of links provides the shortcuts to the same topic group feed in different predefined channel groups. I will talk about channel groups later.

In next screenshot you will see how the topic group is defined. In this example we see topic group called "Microsoft". Each keyword is tracked continuously. You can also define topic groups that share topics/keywords.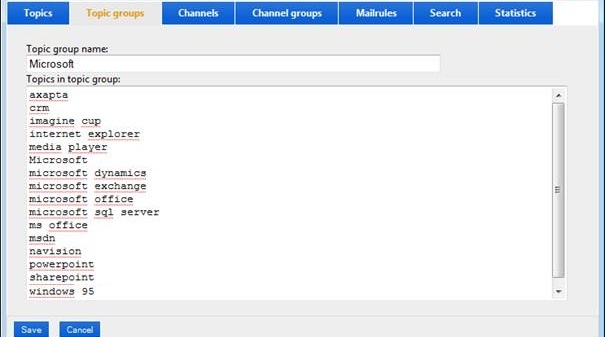 Following images shows you how to define channel groups if needed. In simple cases you do not need to create channel groups because you want to find information from all the subscribed feeds in your database. But in more advanced cases it's possible to create channel groups like "online news only", "paper channels only" or for example "blogs only". This way you can limit the search of information only to some channels.

On next screenshot we have opened channel group in detail view. You can add and remove channels if you click on "Manage".

Functionality "mail rules" shows you one of the outcomes of defining topics, topic groups, channels and channel groups. You can choose group and channel group, add email recipients and voila! – all the recipients will get all matching articles as emails. This search is persistent - you set it once and then let it run. Articles can be grouped to one email and sent few times a day or recipients can also get article as soon as it's added to database.  You can see here the status of mail sending (when the rule ran last time and how many articles are sent).

Following images shows you how we define mail rule. First you select topic group and then select one or two channel groups (for example NEWS and BLOGS).  After this we add recipients, change subject of email and also email greeting. Finally you can specify if you want to send articles grouped. If you choose to send articles grouped then you also specify the times when to send the articles.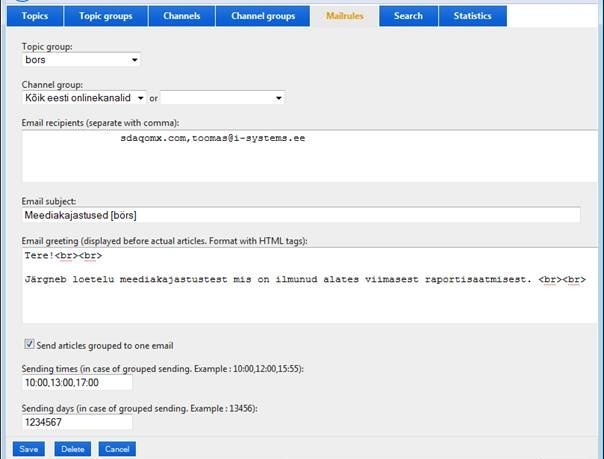 Second output from this application is statistics of mentions. You can select topic group and channel group and then select start and end dates and get the statistics either for use in Microsoft Excel or you can do the visual statistics inside our application and can save the created graphs as images.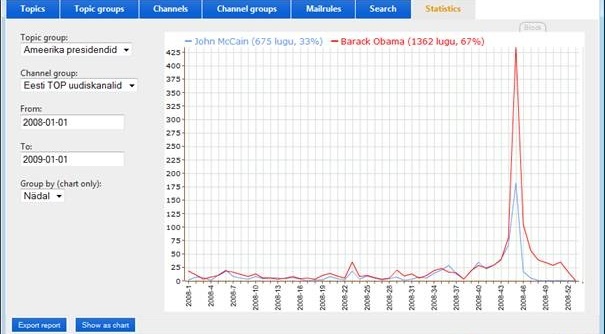 Following screenshot shows the output of defined topic group in public portal (news.station.ee). It's accessible by anybody.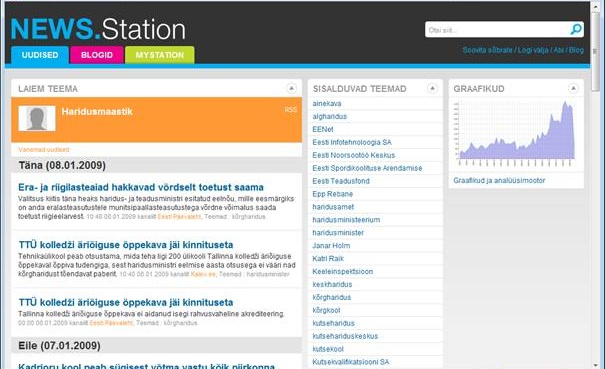 On next screenshot you see the same topic group as before. Only this time it's only accessible by paying clients.